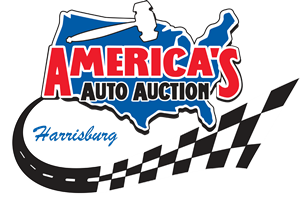 America's Auto Auction Harrisburg
Auction Policies
1100 South York Street, PO Box 368
Mechanicsburg, PA 17055
Phone 717-697-2222 Toll Free 844-236-3173
Fax 717-697-2234
www.americasautoauction.com/harrisburg
***Auction Every Thursday at 8:30 A.M.***
THE FOLLOWING POLICIES ARE IN PLACE FOR BOTH YOUR BENEFIT AND PROTECTION. THESE POLICIES MAY BE ADJUSTED TO COMPLY WITH OUR EVER-CHANGING INDUSTRY, STATE, AND FEDERAL GUIDELINES AND LAWS.
Revised: February 2019
---
General Policies
- This is a dealer-only wholesale auto auction for both Buyers and Sellers.
- No retail customers are allowed on the property.
- Due to our insurance and the safety of our customers, NO CHILDREN ARE ALLOWED IN THE AUCTION LANES.
- The decision of the America's Auto Auction Harrisburg (AAAH) management shall be final on all disputes.
- America's Auto Auction Harrisburg reserves the right to cancel any purchase due to unforeseen circumstances.
- If the auction determines that the transaction is not fair and/or ethical to either party, the Seller and Buyer agree that AAAH may cancel the sale at the AAAH's sole discretion.
- No weapons are allowed on our properties.
- Dealers and Representatives must be registered at AAAH through Auction Access and must be currently licensed by their state before doing business at AAAH.
- Dealers are responsible for all business transacted by representatives under the company name at AAAH unless terminated in writing.
- Only authorized representatives are permitted to sign bill of sales.
- All changes of ownership, authorized representatives, banking information, addresses, or telephone numbers must be reported to the AAAH Auction Access Office at the time of change.
- You must have a current and visible bidder badge when bidding. Auction Access ID cards are required to receive your bidder badge.
- All vehicles must be registered before they can cross the auction block. Only AAAH personnel may drive vehicles through the auction barn.
- All vehicles bought or sold on the premises must be processed through AAAH. Outside-the-gate sales are not permitted.
- All purchased vehicles must be test driven (not on the lot), post-sale inspected, or arbitrated within the posted time frames.

- Only company checks in the business name will be accepted. All checks will be deposited immediately.
- Returned checks will not be redeposited. Certified checks, money orders and/or cash are required to settle these returned checks. There is a service fee on all returned checks.
- All accounts receivable are due within thirty (30) days of the charge (Net 30). A service fee will be applied to all Cash and Credit Cards transactions (restrictions apply – see Management) and Floorplan transactions.
- Any person found tampering, stealing, or vandalizing any vehicle will be arrested and prosecuted to the fullest extent of the law. Our security personnel reserve the right to search and inspect any vehicle and its contents leaving the premises.
- AAAH accepts no responsibility for items stolen from vehicles (examples: radio faceplates, key fobs, shift knobs, etc.).
- All cars registered are subject to inspection by the State Police or the National Auto Theft Bureau.
- AAAH solely honors AutoCheck due to data-based accuracy. AutoCheck is used for title and VIN verification. We do not rely on CarFax reporting.
- Vehicles will not be registered for sale without a VIN plate under the windshield.
AAAH has reasonable time to make final determination on arbitration and/or disputes arising from Thursday's sale. No check or title will be released until a final resolution is reached.
Sellers
Vehicles must be accurately and fairly represented. It is the Seller's responsibility to verify all mileage, lights, information and announcements before the vehicle is sold. All verbal announcements and announcements written on windows will be valid announcements and the Seller is responsible for these. AAAH is not responsible for missed announcements on the block.
AAAH markings and stickers are a guide only. It is the Seller's responsibility to verify the accuracy of these markings.
The Seller guarantees all items subject to arbitration on vehicles sold for $2,501 or more.
It is the Seller's responsibility to make sure each unit has an adequate fuel supply. Vehicles without an adequate fuel supply will be charged a fee if fuel is needed.
Buyers
The Buyer must verify the price and Seller's representations (including VIN, year, model, mileage, odometer operations, announcements, etc.) and notify AAAH of any discrepancies within the allowed time frame. It is the Buyer's responsibility to know and understand the announcements as a condition of the sale. All vehicles must be settled prior to 5PM; failure to do so may result in the assessment of late settlement fees.
Cancellation of Numbers:
All cancellations for lanes A-B-C-D must be reported by Noon on Tuesday prior to Thursday's sale. Numbers cancelled after that time will result in a cancellation fee for each number. Reserved numbers with no vehicle on them on sale day are considered "no shows" and will be charged a fee.
Reruns on Sale Day
All reruns will be charged a rerun fee. Please see the vehicle check-in office to rerun a vehicle.
Light System:
Green Light -- "Sound"
The Seller attests that the vehicle is subject to all arbitration policies. Any misrepresentation of this policy may result in transportation reimbursement as well as other expenses.
Red Light -- "AS-IS"
"AS-IS" vehicles are sold with no arbitration, including frame damage and frame rust. They are sold unconditionally for both physical and mechanical defects. All vehicles sold for $2,500 or less automatically become an "AS-IS" unit regardless of the light the unit is sold under.
All vehicles represented by Seller as green light and become "AS-IS" because of a sale price ($2,500 or less) will continue to be "AS-IS" with the following exception: Vehicle must start, drive in forward and reverse, and be able to leave the secure auction area under its own power on sale day only. After vehicle has left the secure auction area, the vehicle is fully AS-IS and cannot be returned for any of the items listed in the previous sentence.
AAAH does not guarantee the year of any house trailer, motor home, boat, boat motor, antique car, dune buggy, motorcycle, or golf cart. This information should be verified before settlement. AAAH will not become involved in a dispute on these vehicles; which will be sold "AS-IS."
Inoperable vehicles are completely sold AS-IS, WHERE-IS. No announcements are required to designate if keys are present. Buyer assumes that there are no keys. Any announcement made is just a reference point for an issue, it is not a full diagnosis.
Yellow Light -- "Listen Announcement" (used in addition to Green or Red Light)
The Seller must announce all items he wishes to be exempt from arbitration. Also, non-standard motor, transmission, and major exceptions to original production specifications (items added or deleted) must be announced.
Blue Light -- "Title Attached" (used in addition to Green or Red Light)
There is a fee on all units sold "Title Attached" (when the Seller does not have the title to the vehicle being sold). AAAH must receive the title from the Seller within ten (10) business days or two work weeks (excluding weekends and holidays). Vehicles are considered "Title Attached" if a negotiable title is not produced by 5:00PM on Sale Day.
The Buyer is cautioned not to excessively drive, repair, or sell any title attached vehicle until the auction receives the title. Buyers who, in the opinion of management, put excessive mileage on title attached vehicles may forfeit their right to return the vehicle in question.
If AAAH does not receive the title within the ten (10) business day period, the Buyer has the option to return the vehicle. Buyer has seven (7) days to return vehicle after notifying the office with the intent to return. If title comes in during those seven (7) days, vehicle is still a valid return.
If Title Attached is not announced on a vehicle, the Buyer can return the vehicle at any point as long as the title is not present in the auction office. The Buyer will have seven (7) days to return the vehicle after notifying the office with the intent to return.
Required Announcements
All required announcements must be on the invoice. It is the Seller's responsibility to ensure the invoice is correct.
Below are Required Announcements:
Red Light (AS-IS) Designation
Title Attached (see Title Attached section)
Salvage
Flood
Water Damage
Lemon Law
Previously Abandoned – Printed on Title
Reissued VIN Plates
MSO (Manufacturer's Statement of Origin)
CO (Certificate of Origin)
Altered Suspension
Catalytic Converter Missing
Altered Emissions
Major Damage History Brands on AutoCheck
Gray Market Vehicles
Canadian Vehicles
Vehicle/Title in Kilometers (some units cannot be sold if the odometer cluster has not been correctly changed – see management)
All Title Brands - including but not limited to:
Exempt Branded Titles
Former Salvage Branded Titles
Reconstructed Branded Titles
Antique Vehicle – Title Brand
Classic Vehicle – Title Brand
Collectible Vehicle – Title Brand
Out of Country – Title Brand
Originally Mfgd. For Non-U.S. Distribution – Title Brand
Agricultural Vehicle – Title Brand
Logging Vehicle – Title Brand
Police Vehicle – Title Brand
Street Rod – Title Brand
Recovered Theft Vehicle – Title Brand
Vehicle Contains Reissued Vin – Title Brand
Flood Vehicle – Title Brand
Taxi – Title Brand
PA Salvage Certificate (must be sold AS-IS)
PA Salvage Title (must be sold AS-IS)
PA Junk Title (must be sold AS-IS)
Odometer Discrepancies
Odometer Rollovers
TMU Units
Logo/Decal Misrepresentation
Replaced Odometer Clusters
All Non-Conventional Fuel Types Must be Announced – This includes, but is not limited to: Fully Electric, Natural Gas, Propane, etc.
***No Announcements Required for 2WD or 4WD designation – Buyer Beware***
Title Clarifications
Titles submitted by the Seller must be in the Seller's company name.
A clean, transferable title must be turned in to the Settlement office by 5PM on Sale Day or announced and sold as "Title Attached". When "Title Attached" is not announced on the block, the Buyer has the right to reject the vehicle if not turned in by 5PM.
We will not sell any vehicles with repossession paperwork.
Mileage Exempt Law: Ten-year and older vehicles are exempt from Federal Odometer Disclosure. However, Exempt does not cover a TMU vehicle. All mileage discrepancies must be announced as TMU (Replaced odometer cluster must be announced on all vehicles and branded TMU).
The Seller must announce if an odometer is broken, replaced, or altered. It is the Seller's responsibility to ensure the invoice mileage matches the vehicle odometer mileage. An odometer statement must be signed at the time of sale. Seller and Buyer agree that the auction is not responsible for vehicle odometer mileage errors.
Please note: Out of state "R" titles must have an enhanced PA salvage inspection before applying for PA title.
No motorized vehicle can be sold without a title nor be sold "no title ever." Specialty units can be sold under "Bill of Sale Only" with prior management approval (examples: Golf Carts, Lawn Mowers, etc.).
Please note: If you do not have a boat license you may be liable for unpaid sales tax on your purchase.
Junk, Reconstructed, or Salvage Title vehicles must be sold "AS-IS." Salvage and/or reconstructed history is NOT the same as Junk or Salvage title and therefore is not required to be sold "AS-IS."
Defaced titles will not be accepted. Please see management before running any vehicle with a title that could be considered defaced.
On title problems created by AAAH clerical error, AAAH shall be given reasonable time to correct the error.
PSI Policy
We no longer warrant Land Rover vehicles under our Post Sale Return/Repair Policy. Also, management reserves the right to limit coverage on vehicles that management deems as "Specialty Vehicles" (Ferrari, Lamborghini, Maserati, etc.). If there are any questions as to coverage, please ask before you make your purchase.
After a unit is sold to a retail customer or another dealer – the AAAH PSI is voided and cannot be transferred
PSI Mileage Rule – Any vehicle over 135,000 miles will not be covered for the 7-day PSI return period. The vehicle is covered sale day only.
Diesel Policy
All Post Sale Inspected units and units arbitrated for any motor-related complaints that are identified by AAAH to be diesel will be held at the auction in a pending status until noon of the following day to be properly inspected.
Airbag Policy
Any vehicle arbitrated for "Airbag Light" will be subject to further review by a repair facility. During this review, the Buyer will be obligated to the purchase until determination as to the cost and/or repair of the defect is complete (arbitration requires more than a $500 repair). A final decision on this arbitration issue will be determined by 5:00PM on Monday following the respective sale day. There will be no check or title issued on the deal until the arbitration review is finalized.
Frame Disclosure Standards
AAAH uses the industry-accepted "NAAA Structural Damage Policy" as its standard. Copies are available upon request.
Subject to Arbitration:
Vehicles are sold as mechanically sound unless otherwise announced. AAAH does not guarantee reconditioning cost for non-visible wear and tear. This includes brakes, exhaust, or maintenance items required by some manufacturers to pass used car certification programs, or those which may be required by the Buyer's state vehicle inspection guidelines.
Any price adjustment eliminates further arbitration for any defects. After any adjustment is accepted, the unit becomes "AS-IS" and is not subject to further arbitration.
Please remember, our arbitrators will only check your complaint(s). Please be specific.

Free and immediate rerun of all arbitrated vehicles. Arbitrated defects must be announced when rerun.
Any item that can be repaired for $500 or less (This is for drivability issues only) cannot be arbitrated unless the auction declares the vehicle unsafe to drive.
The following conditions are subject to arbitration (unless announced):
- Paint work on the current model year with less than 10,000 miles must be announced.
- Total re-paint of vehicle
- Air conditioning must be operational on current model year units only. Units with no air conditioning must be announced when sold under the green light.
- Cracked or welded blocks must be reported by the Buyer within 48 hours of purchase. Seller will be held responsible.
- Missing catalytic converter or altered gas tank filler (sale day only)
- Defective brakes or steering (if declared unsafe to drive)
- Excessive valve train noise – guidelines vary, due to make and model tendencies
- Manual transmission clutch operation is limited to "slipping." Vibration and roughness in clutch operation must be excessive.
- Inoperable suspension; including air-ride suspension (unless deemed unsafe)
All arbitration complaints on dealer sold units must be registered within one (1) hour of the time of sale.
All arbitration complaints on lease sold units must be registered within one (1) hour of the close of the lease lanes.
All vehicles that are arbitrated must be back before arbitration closes on sale day.
Any vehicle misrepresented by advertisement, logo, or decal is arbitrable on sale day only. Logo and/or decal misrepresentation must be announced with the yellow light.
Not Subject to Arbitration
Any unit sold for $2,500 or less is sold "AS-IS" and is not subject to arbitration. "AS-IS" transactions are NOT subject to arbitration for physical and/or mechanical defects including unibody, frame damage, and rust regardless of condition reports.
The following conditions are not subject to arbitration:
- Any item/items that can be repaired for $500 or less (This is for drivability issues only).
- One year and older windshield and windows, body and paint work.
- Warning lights and gauges - except for temperature, oil and airbag.
- Check engine lights are NOT subject to arbitration – unit must experience drivability issues.
- Cam phaser and timing chain codes are not arbitrable.
- Upholstery, headliners, mats, and convertible tops
- Inoperable, jumpy or erratic speedometer needle
- Jeep or Chevrolet Astro van driveline noise
- Ford Cam-Phaser noise on 5.4L motors
- Oil leaks (unless deemed excessive by our mechanics)
- Visible defects (Worn tires, inoperable windows, inoperable sunroofs, holes in upholstery, etc.)
- Cold start motor noise (unless deemed excessive by our mechanics)
All vehicles twenty (20) years of age and older are considered antique, classic, and/or special interest. These vehicles are sold "AS-IS" and are not subject to Arbitration.
"R" branded title, or vehicle history, cannot be arbitrated for unibody damage… assume it may have damage.
"AS-IS" vehicles cannot be arbitrated for not having factory-installed air conditioning.
The decision of the arbitration manager is final in all disputes. Management reserves the right to reject any arbitration complaint if the unit in question appears to be tampered with. Any dealer caught tampering will be subject to suspension of arbitration and/or trading privileges.
Time Limits for Auction Involvement:
Catalytic converter - Sale Day only
Odometer operation - Sale Day only
Missing or deployed airbags - Sale Day only
Frame damage – seven (7) days
Unannounced previous police or taxi use – seven (7) days
Flood cars – seven (7) days
Documented mileage discrepancy – fourteen (14) days
Title brands – fourteen (14) days
Salvage history – fourteen (14) days
Lemon Law – fourteen (14) days
Vehicles returned for the above reasons may be subject to transportation reimbursement as well as other expenses.
Return Vehicle Guidelines
Any returned vehicle must be in the same or better condition as when it was sold. All return vehicles must have a 24-hour notification to the main office. AAAH's liability under our policy shall never exceed the auction sale price of the vehicle. Per Auction Insurance Agency guidelines, Seller shall be solely responsible for re-purchase of any vehicle sold through the auction found to be stolen. Maximum cap on transportation is $650.00. Reimbursement will be issued, one or both ways, depending upon reason for return and up to $0.90 per mile, only when proper documentation is provided. Seller is responsible for transportation on returned vehicles. The Buyer has seven (7) days from the date of the vehicle(s) being authorized for return to submit transportation receipts to AAAH for reimbursement.
Off the Block Sales & "IF" Sales
Off-the-Block sales are strictly between the Seller and the Buyer and are not binding on either until the sale is finalized. Please settle all Off-the-Block sales within the hour. The auction will not become involved in any arbitration procedures or be responsible for any defects on these vehicles. These vehicles are subject to arbitration on mileage and title brands only. All Off-the-Block sales must be requested and designated on the sales invoice. Any transaction sold Off the Block is considered an "AS-IS" transaction and cannot be arbitrated.
"IF" sales in all lanes are binding on the Buyer for one hour. An approval of the bid price by the Seller, within one hour, constitutes a sale.
Abandoned Vehicles
Vehicles that are not re-registered or removed from the sale lot by the Tuesday following the sale will be removed from the sale lot. Dealer assumes full responsibility for vehicles parked outside of the sale lot. After fourteen (14) days, vehicles will be towed and charges will be assessed. Vehicles not removed after thirty (30) days will be considered abandoned and disposed of as such.
Online Policies
AAAH seeks to maintain the highest standards for the representation and sale of used vehicles online. To provide the easiest transaction for our Buyers and Sellers, the following procedures are in place, in addition to the regular in-lane policies.
Online Sale Process and Vehicle Pickup
Upon notification of a winning bid by an online Buyer, AAAH will send, by fax or email, a bill of sale to the buying dealership. The Buyer is required to specify the method of payment or floorplan information as well as the name of the transportation company authorized to pick up the vehicle(s).
Upon receipt of confirmed funding, AAAH will release the vehicle. The Buyer's payment must be received prior to the vehicle(s) being released for transportation.
The Buyer must advise the transportation company to contact the AAAH internet office, between the hours of 8:30 AM and 4:30 PM Monday through Friday, to check the status prior to the arrival of a carrier, transport truck, or company drivers. The auction cannot be held responsible for transport delays due to failure to confirm vehicle(s) ready-to-release status.
IMPORTANT: The transporter/driver, prior to the removal of the vehicle from the internet lot, must inspect the vehicle(s) for damage and/or missing items. Previously existing tie down damage must be noticed prior to loading a vehicle onto the carrier. A condition report will be available for use in this process. A representative of AAAH will acknowledge any noted damage by the transporter and a signed copy will be placed on file at the Auction. Damage not noted at time of pickup will be considered as occurring after release from the Auction and will not be arbitrable.
Online Arbitration Policies
AAAH standard sale day arbitration policies will be recognized for all online sale units. Due to the nature of online purchasing, these additional policies apply and may supersede our standard Arbitration polices:
Any vehicle bought online without a full condition report is sold AS-IS, WHERE-IS (No Exceptions). Pictures only or a photo-only condition report does constitute as a full condition report.
It is the Buyer's responsibility to review all announcements, vehicle representations in the condition report, and condition lights under which the vehicle is sold. No arbitration complaint will be accepted if the proper representation was made at the time of sale.
Online Return Policies
All arbitration claims must be confirmed and documented by AAAH within the specified time allocation. Any claims presented to AAAH after the time limit will not be honored even if the Buyer's claim is valid. - ***NO EXCEPTIONS***
The Online Buyer must notify the AAAH internet office of any arbitration issues within seven (7) days of purchase of vehicle. Notification includes any mechanical defects, additional damage complaints, and title brands/mileage issues. The seven (7) days are from the date the vehicle is purchased, not when a transporter drops the vehicle at the lot. AAAH will not be responsible for late arbitration claims due to slow pickup time.
Any vehicle authorized for return must be transported to AAAH within seven (7) days of the authorization to return.
The Buyer is responsible for the return of an authorized vehicle, its negotiable title, and all applicable receipts. All must be received by AAAH prior to reimbursement of purchase price to Buyer.
If AAAH finds it necessary, the Buyer will provide documentation, estimates, and/or third-party inspections as required by AAAH in order to satisfy a complaint. If any adjustment is made by AAAH, the vehicle automatically becomes an AS-IS deal with no further arbitration.
From the desk of: Dan G. Murphy, III, Chairman
PA State Board of Vehicle Manufacturers,
Dealers and Salespersons
Commonwealth of Pennsylvania
To: All Pennsylvania Dealer-Only Auto Auctions
Re: Reiteration of Regulations of Vehicle Board and Pennsylvania Code
As Pennsylvania State Board of Vehicle Manufacturers, Dealers, Salespersons, and Auto Auctions, Individuals participating in vehicle and/or auction sales MUST BE LICENSED by the State of Pennsylvania or another state.
No Exceptions!
The Pennsylvania State Board of Vehicle Manufacturers, Dealers, Salespersons-and-Auto Auctions will prosecute to the full extent of the law in accordance with the Board of Vehicles Act and the Pennsylvania Code.
Unlicensed Sales WILL NOT be tolerated.
Questions regarding practice of this profession may be directed to the Office of the State Board:
Board Administrator
State Board of Vehicle Manufacturers, Dealers, and Salespersons
P.O. Box 2649
Harrisburg, PA, 17105-2649
www.dos.state.pa.us/vehicle
Vehicle Board Mission Statement The State Board of Vehicle Manufacturers, Dealers, and Salespersons serves to protect the public interest in the purchase and trade of vehicles so as to insure protection against irresponsible vendors and dishonest or fraudulent sales practices. The Board regulates the licensure of salespersons, dealers, vehicle auctions, manufacturers, factory branches, distributors, distributor branches, and factory or distributor representatives in the vehicle industry. Also, the Board determines whether a manufacturer may establish a new vehicle dealer or relocate an existing new vehicle dealer within or into a relevant market area where the same line-make is then represented. In addition, the Board investigates complaints and allegations of wrongful acts of any licensee or person required to be licensed by law. The Board also supplies a list, to be posted at all vehicle auctions, containing the names of all licensees who are currently revoked or suspended and persons who were penalized for unlicensed activity within the last year.